26 courses. 12 seats. Minibar. A culinary tour de force.
This was my favorite dining experience ever. Even after going to Eleven Madison Park twice, French Laundry, Alinea, and Benu, this still stands true. Not to say that those restaurants aren't good, but they're renowned--everyone's heard of them. No one talks about Jose Andres' Minibar. And that's a shame, cause they deserve more recognition than they're getting. Everything was so mind-blowing, my Chef and I were literally laughing because of how ridiculous the food was.
This restaurant changed the way I would operate forever. The chefs' movements on the pass were like choreographed ballet. The pacing was impeccably timed. Every guest got served at the exact same time, meaning the plates slid to us in unison for every single course. Very impressive.
Anyway, on to the fun stuff.
walnut mimetic
We were greeted upon sitting with this edible table-scape. The leaf was made of a crystallized maple foam, and the walnut crispy on the outside, but turned into liquid as soon as you bit down on it.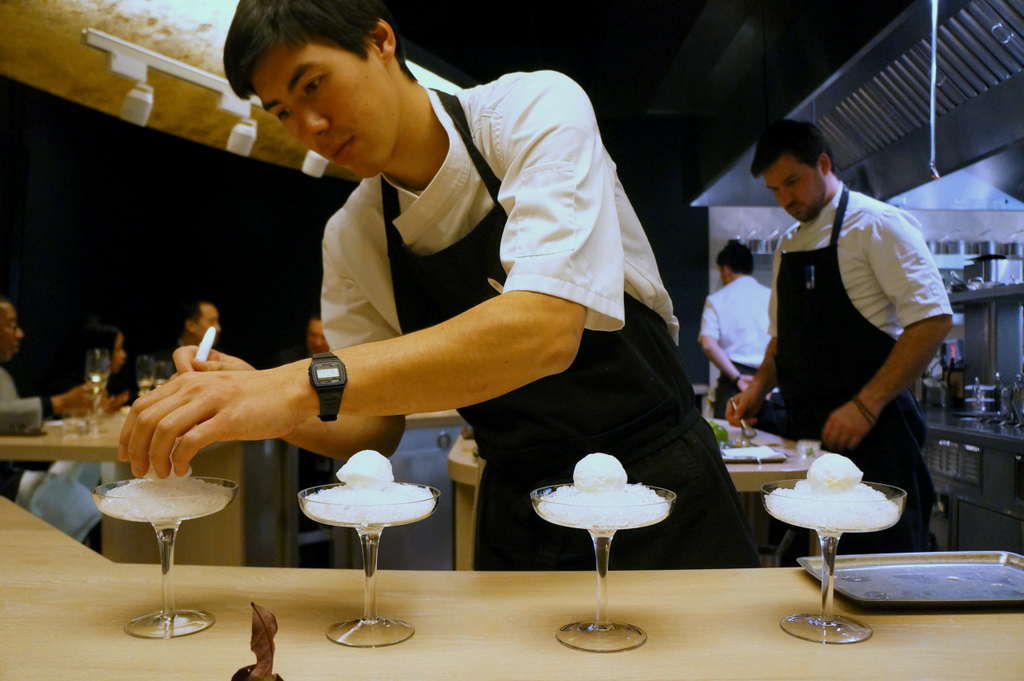 oaxacan snowball
A poached meringue gently dotted with Mezcal.
asian "coca de vidrio"
A play on words as 'coa de vidrio' translates to 'glass bread' in Spanish, which traditionally looks like this. Instead of a traditional bread, they folded a glass-textured wafer on to itself and laced it with Asian flavors. It was super light; shattering, and then disappearing before your palate could truly grasp it. Very whimsical.
when pigs fly
Probably the cutest thing I've ever eaten. The meringue was made of bacon fat then dehydrated until crispy. Its body was stuffed with a granny smith apple puree. It was good.
foie bomb
A warm foie foam encapsulated by an edible glass. This particular technique was actually invented by Jose Andres himself. He became inspired when working with master glass blower Dale Chihuly, and created a glass bulb made of isomalt that inside contained warm olive oil. Check out the original iteration. It looks like a teardrop from heaven suspended in time. The outside shatters delicately like glass, and the warm foie foam escapes, hitting your entire tongue all at once. Truly incredible.
churro tendon
I don't know who thought to make a churro out of beef tendon, but it's so genius. The tendon was used more for texture and mouthfeel, otherwise, this tasted purely 'churro-y'.
almond tart with blue cheese
Apparently, when I'm drinking, a younger version of me emerges who thinks the word 'dope' is still acceptable. Anyway, check out the video above.
chicken 'shawarma'
More like a chicken spring roll. This was the simplest and most memorable dish for me. It was just so refreshing and intensely flavored for a dish with so few ingredients : lettuce, potato microfilm, chicken skin, chicken jus, yogurt foam. The potato microfilm is from Japan, and was originally used for the swallowing of medicinal pills. The film blankets the pill so that one will not have to taste the bitterness of the medicine, instead, the film melts into a cocoon as soon as it interacts with saliva, making the pill tasteless, and easier to swallow. Ferran was one of the first to apply it culinarily in his disappearing pine-nut ravioli.
pigtail curry panini
This one was really interesting. The 'bread', if you could even call it that, was almost styrofoam in texture. In between is a curry made from chopped up pig tails.
baby carrots & coconut
Spherification of carrot juice mimics and hides amongst real baby carrots.
beech mushroom risotto & truffle
A 'risotto' of beech mushrooms, but only the tops. The risotto was heated inside the bag, aromatizing the air inside. The moment they cut it open, the essence of truffle shoryuken'd into my face.
smoked oyster escabeche
Honestly, don't remember this one...Gonna say it was amazing, anyway.
fabes con almejas
'Bean & Clam Stew.' The concept is the same as the carrot dish where spherifications of butter beans stand-in for the real thing. It's also served with spherifications of oysters. It was rich, buttery--good.
crab & chicken skin
This was an off-menu amuse. The beads are lemon caviar made from agar. I actually made this after watching Jose Andres' lectures from Harvard, where I saw the recipe. It wasn't as good this...
grilled lobster, peanut butter, & honey
An interesting combination of flavors that coalesced into something very familiarly Thai curry-like.
parmesan egg & migas
'Migas' translates into 'crumbs' in Spanish. Typically, a dish made from leftover bread. Obviously, this was some next level migas.
thai soup
Described as an inspiration from Jose Andres' travel to Thailand. I'm assuming this is a nod to Gwaytio Nuea Nam, which is extremely similar to Vietnamese Pho, with very minor differences. This turned out to be one of my favorites of the night.
espardenyes with bone marrow
Small sea cucumbers filleted, sauteed in butter, and served with unctuous chunks of bone marrow. Extremely savory and delicious.
olive oil soup with freeze-dried mandarin
This wasn't mind-blowing, but a very necessary segue into the sweeter courses.
dragon's breath

Made from caramelized curry popcorn. The videos speak for themselves.

pine snow with honey
This is my kind of palate cleanser. It really felt like I was eating freshly fallen snow beneath a pine tree. Cause I do that sometimes.
coconut sticky rice with mango
The sorbet was made to look like a tiny mango. Also, the last course before we moved to the bar.
I thought it was over when they asked us to change scenery, but they had more in store for us. Be sure to check out part 2 of the Minibar series.