The second wave of courses was the desserts, some of the most whimsical culinary imaginings, plated and edible. If Willy Wonka was a pastry chef, he would have worked at Alinea.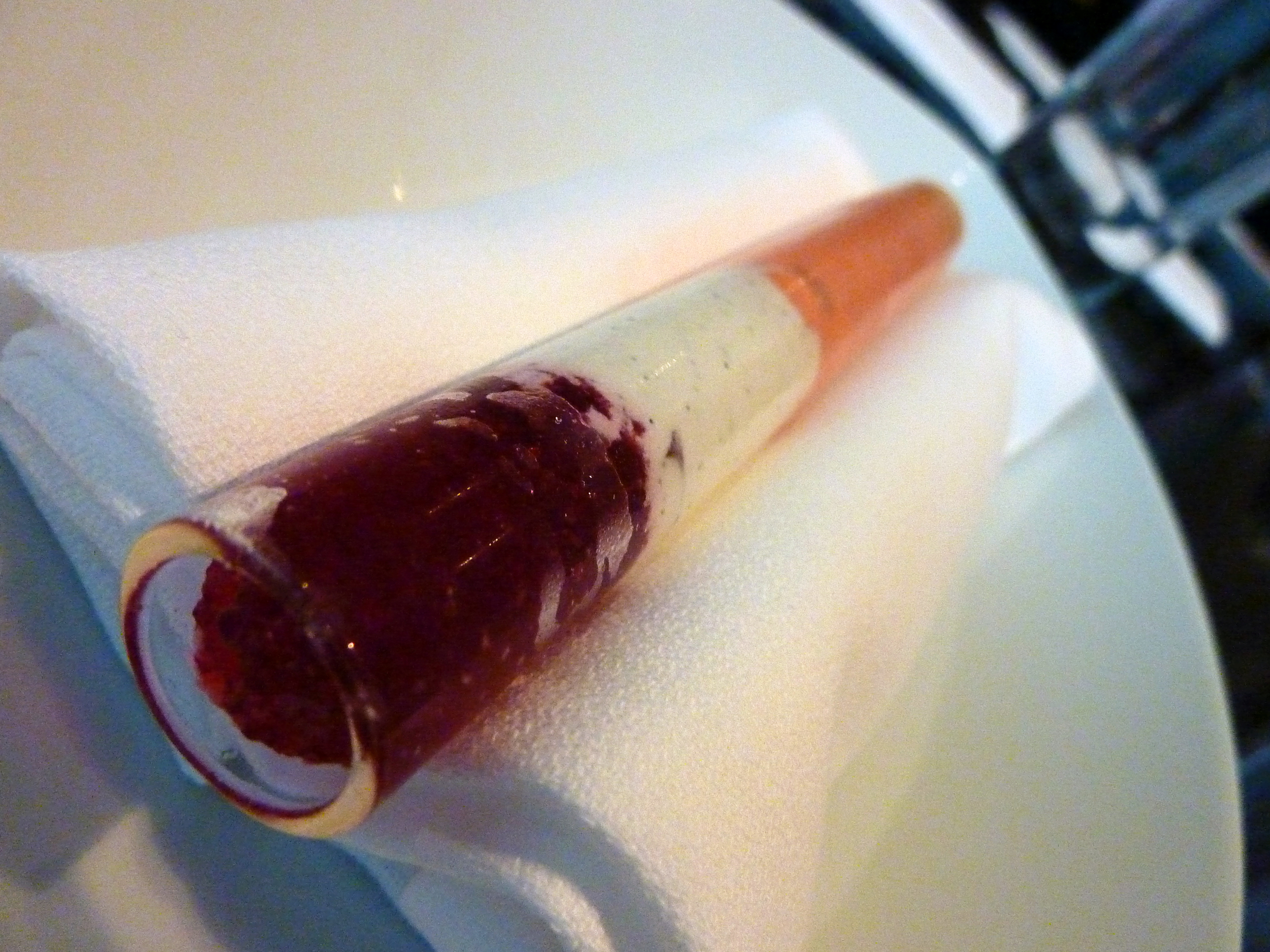 The first three were a play on childhood favorites and required some guessing to figure them out, but we eventually got 'em through nostalgic recognition. This is where the real fun began.
BUBBLEGUM STRAW. A giant straw layered with Balinese long pepper, hibiscus, and creme fraiche. Somehow, when slrupped all at once through the tube, these flavors tasted miraculously reminiscent of bubble gum. I'm not big on bubble-gum flavored food, but this was refined.
BACON FRUIT ROLL UP. I'm not sure if it was intentional, but this tasted exactly like a fruit roll-up. Not a bacon flavored fruit roll-up, but a genuine, aluminum sleeved, Betty Crocker Fruit Roll-Up. The listed ingredients are bacon, butterscoth, apples, and thyme. What the fuck, right?
RHUBARB DESGUSTATION. Beautiful presentation; otherworldly. The plate arrived on a pillow injected with juniper air. As the plate sunk into the pillow, it deflated and released pure juniper aroma. Not over-the-top at all.
CHOCOLATE & TOBACCO. This presentation seemed like some sort of alien landscape which was fit for the earthy flavors present in this dessert. The gels in the picture are filled with liquid blueberry and maple that ooze out when broken.
SWEET POTATO CHURRO. this tasted like a churro, except times ten.
It's not everyday that I get to eat like this, but it's nice every now and then (maybe once a year). And it's totally worth it. If anyone is willing to pay an upwards of $100 for a Broadway show there's no reason not to spend that same amount towards fine-dining; it's like a show you can eat. So, if you're ever in Chicago, and you're willing to put down some money, check out Alinea.